GEETA DHAM
Four well recognised Dhams exist in the four corners of India i.e., Dwarka, Badrinath, Puri and Rameshwaram. His Holiness Shri 108 Swami Hariharji Maharaj, one of the greatest Tapasvis of the present era, coneived, created and established another Dham at Tinwari, only 40 kms from Jodhpur, Rajasthan in the central part of India, which he named Geeta Dham.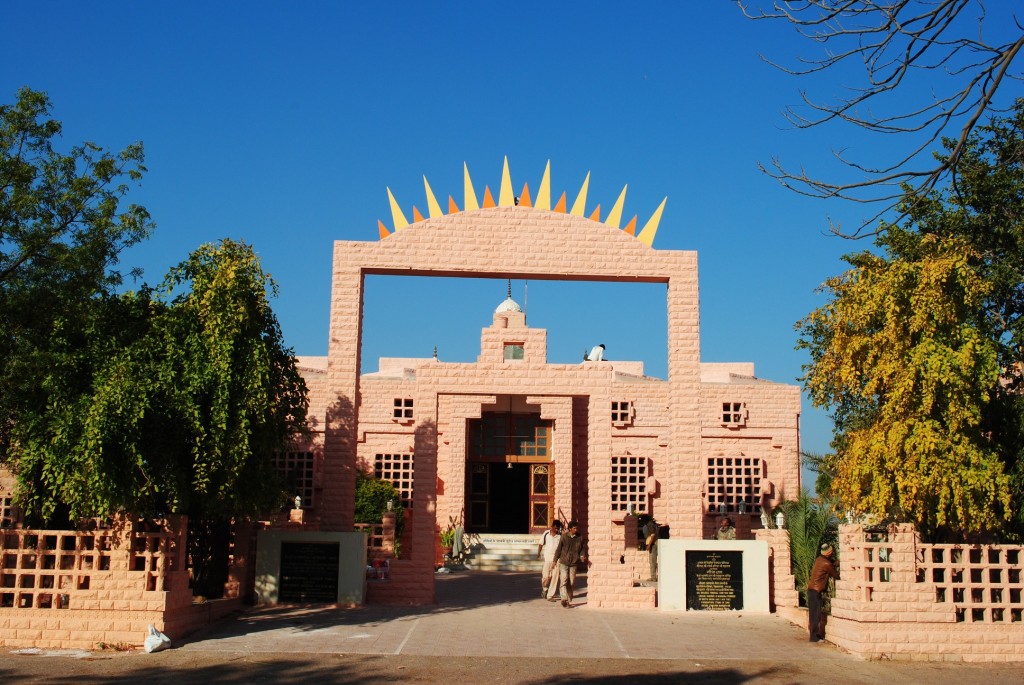 As founder President of Geeta Ashrams all over the world he had envisaged the need to have a Dham, a centre, which would act as the SPIRITUAL LIGHTHOUSE for propagating the divine teachings of the Geeta to the mankind irrespective of caste, creed, color or religion.
In 1993, while blessing that 90 acres of land at Tinwari, very kindly donated to His Holiness by two philanthropists from Jodhpur, Maharaj Shree, as he was fondly addressed by his disciples, mentioned that this Geta Dham would as well serve as an International Centre for Research in various aspects of the Philosophy of Geeta. With that vision in mind, His Holiness got an ambitions blueprint prepared encompassing as many as 27 major projects within the Geeta Dham complex. A number of them were completed and started functioning during his life time. The stride of development never ceased even after he was BRAHMALEEN in year 2000, as overall support both financial and otherwise from dedicated Geeta devotees from all corners o the world galloped incessantly.
Some of the highlights of activities under various projects are outlined as given below:
GURUKUL VIDYA MANDIR
GAUSHALA
GOBAR-GAS PLANTS & VERMICULTURE PLANTS
SOLAR ENERGY PLANTS
MEDICAL SERVICES
BAL-GOPAL PROJECT
MEDICINAL PLANT PROJECT
GURUDEV'S MEMOIR

GURUKUL VIDYA MANDIR

Within the Geeta Dham campus, there exists a very well-planned building complex, named GEETA DHAM UCHCHA MADHYAMIK (HIGHER SECONDARY) VIDYA MANDIR, extensive enough to cater for the needs of as many as 1000 students, with modern-styled laboratories (Physics, Chemistry and Biology), well-developed library, adequate reading rooms and facilities for various games and sports.
A team of nineteen qualified teachers (including teachers for all science subjects) led by a vastly experienced Principal is there to take care of the educational and other related programs for the overall development of students, which now number 586 (79 in nursery, 165 in primary section, 254 in secondary and 88 in higher secondary classes). All students in Nursery and primary sections are given free education and free transport as well. Twenty six other students are being sponsored; fifteen of them are in hostel.
It is very pleasing to note that number of girl-students has increased considerably this year. There are 208 in number, constituting 35.5% of student population. Number of science students in higher secondary classes has also increased to 26. With the installation of 12 computer sets in the computer lab, the students now feel contended and enjoy learning computer skills from teachers engaged for this purpose.
In addition to the usual course curriculum, as implemented elsewhere, at GEETA DHAM GURUKUL VIDYA MANDIR the students are not only exposed to the theoretical and practical ADHYATMIK contents, but are given structured course on the Geeta. Sanskrit classes are held. A well-planned booklet on GEETA-GYAN provides the base for the students to understand the divine teachings as enshrined in the Geeta, the SONG-CELESTIAL. GEETA-GYAN tests are conducted and suitable awards are given to deserving students. Academic performance, by our students in almost all classes, has been encouraging with number of students scoring 90% and more.

Unfortunately, long-time back the construction of a well-planned hostel could not proceed beyond the plinth level due to inadequate funds. Presently 72 boarding students are being accommodated in the unoccupied part of the school building. Facilities have been upgraded for hostel students and new steel almirahs have been provided to each one of them, besides better lighting facility and more space for study. Need for at least one block of hostel is being felt and deserves attention.
Four medium-size buses procured out of kind donations from Seth Makhanlal Mahavar Trust, Shree Sundur Malkani & family, Seernani family and Mrs. Poly Sheetal, transport students from remote villages surrounding Vidya mandir almost free of cost.

With kind donation largely from Karamchandani family (Shree Manu & Shreemati Madhu) from Austin, Texas, a library with 2790 books, magazine and papers serve the students and staff amicably.
Kind donation from Shree Gope and Shreemati Sajni Nandwani from London facilitated the development of sports complex, which provides opportunity to the students and staff to keep them actively engaged. Our students have demonstrated promise in games and sports in particular KABBADDI and TABLE-TENNIS in which three students (one in kabaddi and two in table-tennis) ahve been chosen to represent at state-level competition, a feather in the cap for Gurukul, Geeta Dham, located in a remote area and lacked adequate facilities in the near past.
GAUSHALA
A total of 515 cattle-heads are being looked after by Dham, out of wich 100 are at our Jaisalmer campus. 65 to 70 cows at Dham yield about 235 litres of milk per day. After adequate amount of milk is held for use by the students and mess about 176 litres are taken away for sale in the market, thus generating about Rs. 14 lakhs per year. Funds are also generated out of Khad produced from cow dung and from Vermiculture plants, which utilize cow dung and effluents out of Gaushala. Yet altogether there is shortage of funds required for proper maintenance of Gaushala. This is highly subsidised and need funds out of donation from devotees and other other donors.
A GAUSHALA CORPUS FUND has been initiated and all are requested to donate generously for GAU-SEWA.
GOBAR-GAS PLANTS & VERMICULTURE PLANTS
All the three GOBAR-GAS plants are functioning exceeding well. Gas produced adequately meets the requirement of our kitchen. Excess gas is stored in huge containers, which could be better utilized if we develop proper system to put it in smaller containers for other use.
Natural khad produced in our VERMICULTURE PLANTS is presently in good demand and these are being properly utilized.
Dham is grateful to Seth Makhanlal Mahawar Trust for kind donation facilitated by Late Shree Shashikant Gupta & family out of which all these plants were established.
SOLAR ENERGY PLANTS
So far three plant units have been functioning at Dham (one for C and D Blocks at Guesthouse, one for Dining Hall and the other for Praagya Bhawan. Recently one more such unit has been installed for Vidya Mandir Hostel. All these are working efficiently. These plants were funded by Seth Makhanlal Mahawar Trust through Late Shree Shashikat Guptaji and family.
MEDICAL SERVICES
Free medical services are being rendered to poor and needy patients in the villages surrounding Dham, to Gurukul Vidya Mandir students and teachers and other residents at Dham. Within a four month period from October 2012 to January 2013, as many as 748 patients (almost 185 per month) attended a small clinic within Dham complex, run by a qualified male nurse. They wee given free medicine out of donation received from devotees. Among the patients were 443 students, 231 residents at Dham and 74 villagers. Patients which could not be handled at this clinic were sent to hospitals far away from Dham.

Soon there will be need for a proper PRIMARY MEDICAL CENTRE in order to cater to the needs of increasing number o failing population within and in the vicinity of Geeta Dham and those for whom hospital-like facilities are required.
A traveler-ambulance donated by Seth Makhanlal Mahawar Trust and modified to serve as mobile dispensary, visits surrounding villages to impart medical help to the needy.
A week-long medical camp was held to serve pilgrims who passed through Tinwari and needed medical attention.
BAL-GOPAL PROJECT
When on the 19th April 2010, this project was inaugurated few small children in the age group 6-9 months from three surrounding villages were enrolled and given free supply of FAREX powder, a nutritive food supplement, with a view to enhance physical as well as mental faculty in them. Soon the number reached to 105, a target that was set. From this group, 24 completed FAREX until the age of 24 months, while the rest have continued to take. Several of those kids who completed FAREX intake, joined Nursery Class in our Vidya Mandir.
Currently the project is running in seven villages, within 35 kms surrounding Geeta Dham, and the number of registered kids in the category 6-9 months is 113. Supply of FAREX is provided on regular basis and the yardsticks of development are monitored by a team from Dham.
MEDICINAL PLANT PROJECT
A new project under the leadership of our respected trustee Shree Raman Kumar Tognattaji was initiated in June last year to work on the feasibility of growing plants and herbs of medicinal value within our Geeta Dham Campus, utilizing the unused part of land. After studying a detailed report from a team of very high-power experts it was formally decided at the last meeting o fthe Board of Trustees held on the 16th September 2012 to go ahead with a Pilot Project.


On the 29th October 2012, the sharad poornima day, the project was launched with creation of nurseries for Chamomile & Shatavari. A selected piece of land measuring 0.4 hectare was also prepared, and plantation of Guggul saplings was done. Two more varieties, Senna and Mehendi, have been scheduled for plantation in coming July, as that would be the right time to do so.
Besides proper utilization of land with long-term benefits for Geeta Dham itself, one of the objectives of this project is to provide guidance tot he marginal farmers in the neighborhood of Dham to avail great oportunity for their economic upliftment by following the examples set by Dham. It is envisaged that with cooperation from these farmers the scope of plantation could be increased to encompass as big area as 10 hectares.
GURUDEV'S MEMOIR
Under the leadership of respected Shree B.L. Joshiji, senior Vice-President of Geeta Dham Trust, memorable photographs, cds, writings, belongings, etc. which are somehow connected to our most revered Gurudev Shree 108 Swmai Hariharji Maharaj, directly or indirectly, are being collected and kept in a room specially designed for this purpose next to Gurudev's kutir. All devotees are requested to please contact Shree Joshiji and offer him any such thing of relevance to be kept/displayed there.